TL;DR – I sold the plugins side of the business to WP Engine, a small contingent is continuing on with me, focused entirely on SpinupWP. We had a blast of a SpinupWP company retreat, shipped lots of awesome stuff, and despite some sputtering on the marketing side, it was a good year.
This is my eighth year in review post since I started writing them:
2014, 2015, 2016, 2017, 2018, 2019, 2020, 2021.
But this one is very different…
Exiting the Plugin Business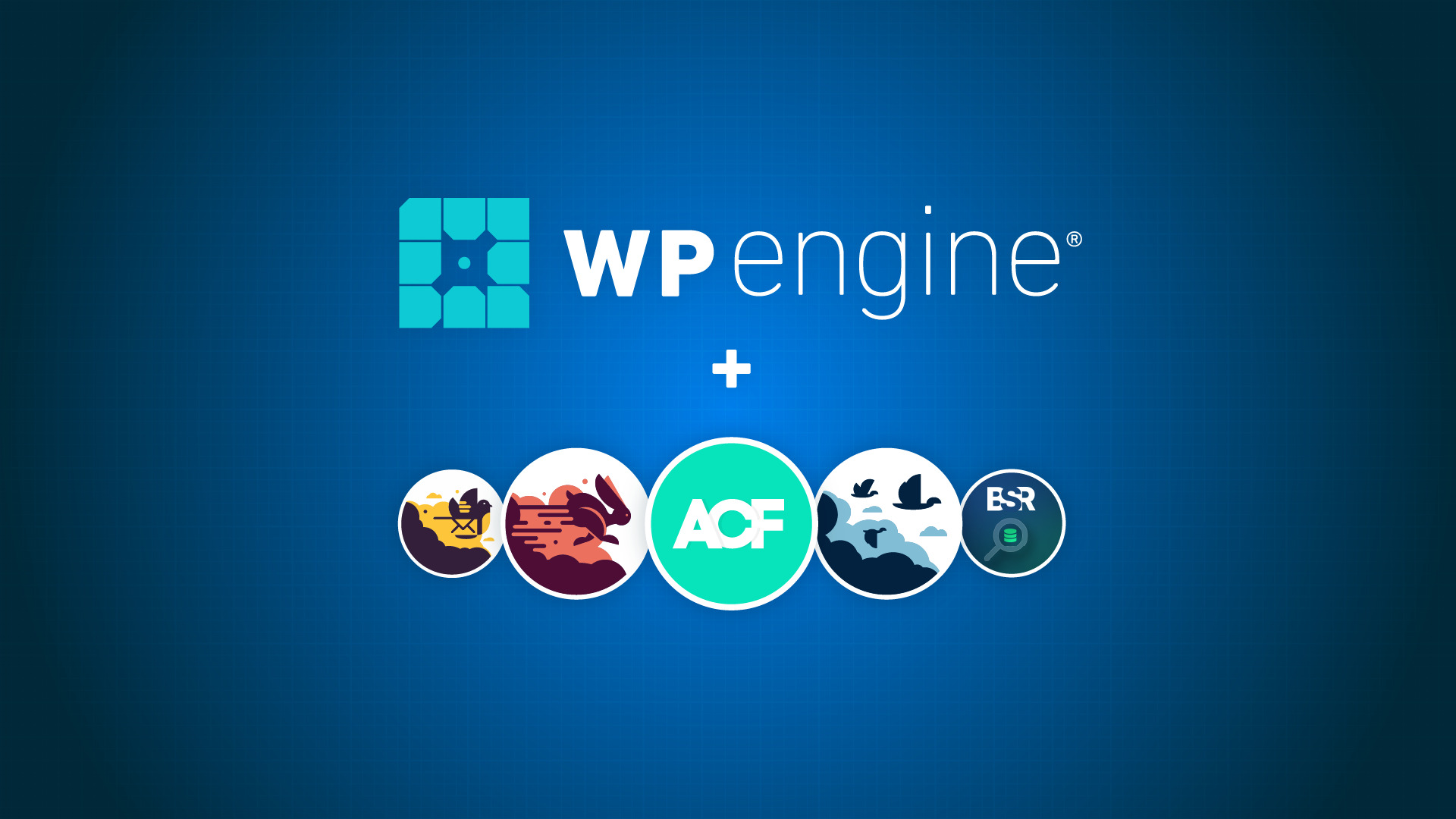 The headline for 2022 is definitely the acquisition of the Delicious Brains plugins by WP Engine. I couldn't be happier with the outcome for myself personally but also the very meaningful bonuses that I was able to gift members of the team that have been with me for many years.
It was also very important to me that plugin customers were taken care of, that the transition was smooth and painless for them, and we achieved that.
The transition was wrapped up at the very end of 2022, so I'm very much looking forward to 2023 focused on SpinupWP.
Team
Under Delicious Brains, many of the roles were shared across the plugins and SpinupWP. For example, Lewis and Dale, our designers, worked across all the plugins as well as SpinupWP. All of our marketing folks did as well.
Lewis (Senior Designer), Caillie (Marketing Manager), and Sam (Marketing Manager) are continuing on with me, dedicated to SpinupWP. We also retained Daniel (Developer), George (Senior Developer), James (Senior Developer), and Ash (Lead Developer). Though Ash gave notice in December and will be moving on in 2023 after a solid eight years working with the company.
Unfortunately, SpinupWP does not currently bring in enough revenue to afford the six developer team we had plus the other roles we require going forward, so I had to release a couple of developers and a video producer. It was very difficult to let people go of course, but at least I was able to give them each generous severance pay.
We're currently hiring a Senior DevOps Engineer and will be looking to bring on some talented folks to fill other roles as well this year. It's both exciting and daunting to be building up a small, lean team with very limited resources again. Reminds me of the early days of Delicious Brains, 2013-2015.
Retreat
In September I flew most of the team to San Diego for a few days of hanging out on Pacific Beach in our beachfront AirBnBs, surfing, eating awesome food, and attending WordCamp US.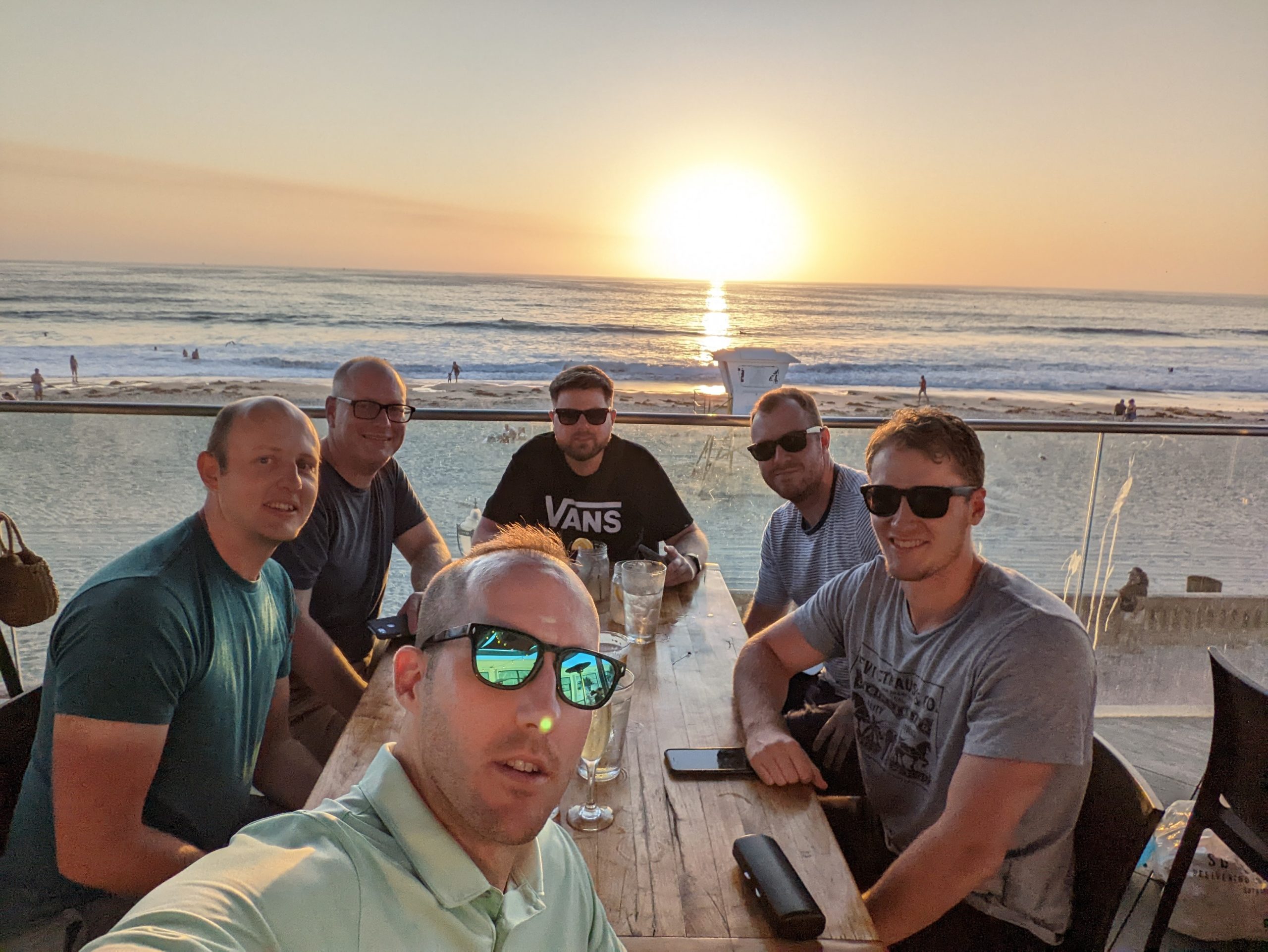 Sam wrote up an awesome summary of the trip with lots of photos, our itinerary, and more.
I hadn't seen any of the team in person since November 2019 so it was really great to reconnect with a couple of the team again and meet others for the first time.
The App
I was going to say that we didn't ship as much as we would have liked this year, but honestly, looking back, it's kind of amazing how much we did ship considering how much our dev team has shrunk. Here are a few of my favorite things we've shipped:
I think part of the reason I feel like we ought to have shipped more is that we have a lot of projects partially complete right now. Our coaching feature, a new domain management UI, Linode as an integrated provider, etc. But going from six developers to three and with our three having to do A TON of support, I need to adjust my expectations.
Back in 2020, we hired two agents through Bobcares (a customer support agency that specializes in web hosting) and they were great. Unfortunately, over the following couple of years, those agents where replaced twice and each time the quality went down.
Things came to a head in 2022 when they replaced both of our agents at once with two agents who were very poor. Even with constant feedback from our dev team, they were not getting any better. It was so bad that our dev team decided to take over all of the support until we hired new agents.
In December, we hired two new agents via LevelUp, a customer support agency we've had success with for many years. It feels so much better now having Francisco and Ernesto onboard, agents who are compassionate and committed to becoming experts on SpinupWP and doing a better job helping our customers.
Unfortunately our developers handling all of the customer support for weeks and then training up our new agents means we've fallen out of a good shipping rhythm. We're now working to get it back.
The coaching feature has been central to my vision for SpinupWP since the beginning and so I would have liked to have shipped that a year or two ago. I have high expectations for it and the other things that we're close to shipping, so I'm anxious to get them to customers. 🚚
Marketing
It hasn't been a great year on the marketing front for SpinupWP. We managed to just maintain our traffic, having produced very little content. Sam did quite a bit of link building this past year, so that may have helped.
Content marketing is our main driver for signups, but we're now down to just three developers to write articles. Plus, Mike, our Senior Editor who was running our content marketing machine, went to WP Engine in the deal. So the whole machine ground to a halt in June. We only published one new article from June to December.
The good news is that as of January, Caillie is back from a well deserved parental leave, and has started assembling a new content marketing machine, a contributing writer program so that we can pay external developers really well for writing solid developer-friendly articles for our audience, leaving our in-house developers to write code.
If you're interested in getting paid to write some tutorials for our blog and being the focus of an email to the thousands of people on our email list, please email Caillie.
A huge win in 2022 was launching our kickass new site just before Black Friday this year and having our best Black Friday by far. I really love the retro 80s vibe that Lewis came up with for our new branding and love how versatile it is. Really looking forward to this being applied to the app as well.
As I mentioned above, we attended WordCamp US in San Diego as part of our company retreat. We had a table where we handed out t-shirts, hats, stickers, and showed off our new, unlaunched website and branding.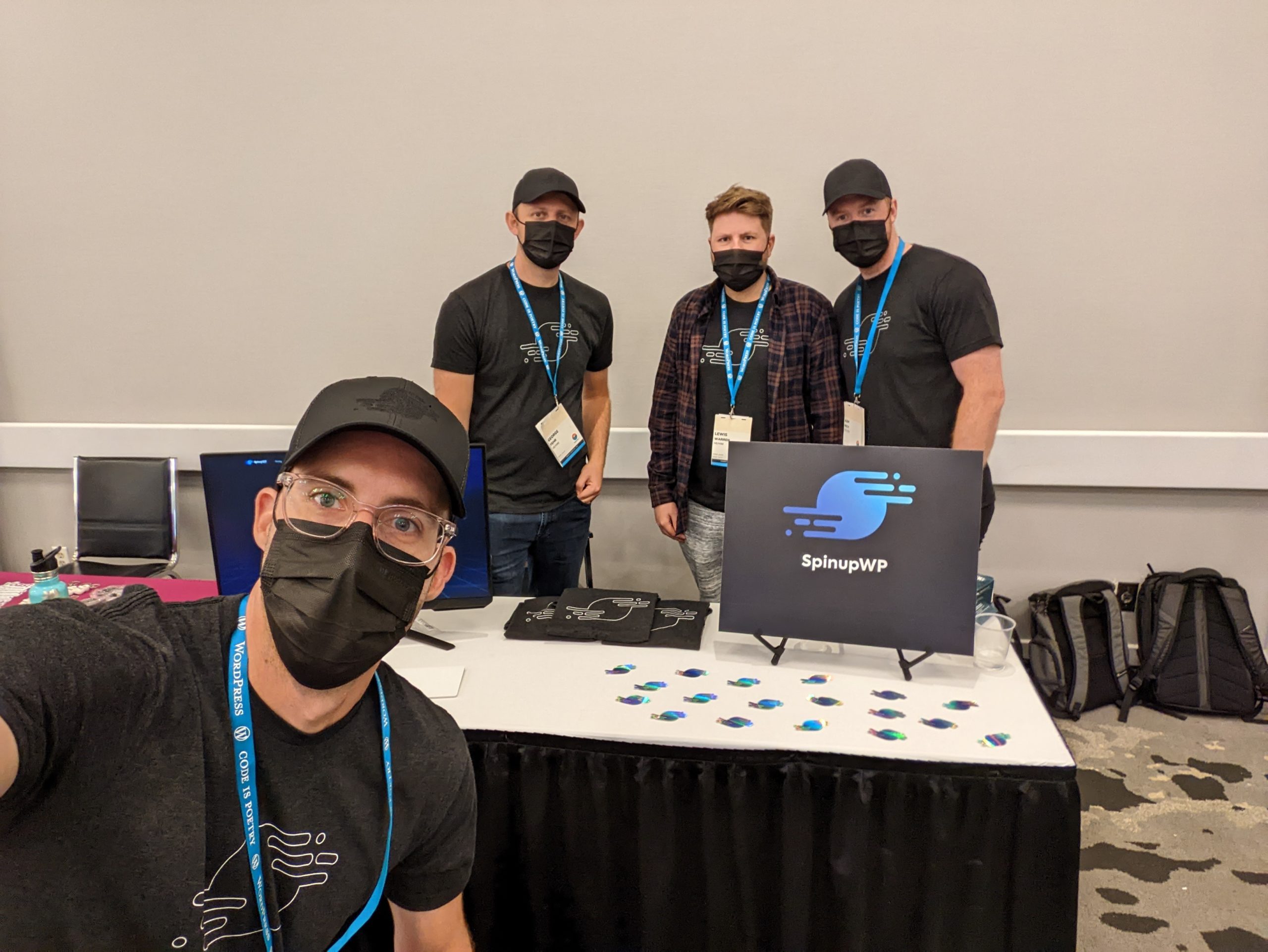 Unfortunately we don't feel like the event helped us reach many people and having a table at future WordCamps probably isn't a good fit for us at our current size. Maybe it will be worth it when we're bigger and can afford a giant booth with 10-foot walls like other companies.
Thanks
I'd like to thank my whole team, both those who have moved on to WP Engine and those who are still with me, for all the awesome work they've done in the past year.
I especially want to thank Iain Poulson and Kevin Hoffman for their leadership in transitioning the plugins to WP Engine's stewardship. And Jonesy and Matt who did great work for me for many years and are now doing great work for WP Engine.
I want to thank those who brought things to my attention that were difficult to address. I'm grateful to have a team that isn't afraid to speak up when something is bothering them so that we can constantly be improving things.
I'd also like to thank my mom for keeping our books and running payroll. I'm grateful to have someone I trust unconditionally with access to my bank account.
And thanks again to my fellow entrepreneurs for helping me work through the typical struggles of a solo founder and those unique to me.
Finally, thanks to our customers. Without you none of this would be possible. I feel very fortunate that you love SpinupWP, appreciate the quality, and are willing to reward us with your hard-earned dollars. We're aiming to greatly improve the product you know and love in the coming months.
I'm happy with our team and the work we did together this past year even with the disruption of restructuring the business. I feel that 2022 has been a pretty good year for SpinupWP but with our full focus on it in 2023, I'm excited to see how much more we can achieve.